BANZAI !!
Jim Kostromin and the Japanese General's Sword.
Mumbles, until the post World War 2 building boom, was a pretty small place with a population to match and consisted mainly of families whose antecedents had lived here for generations. Even so, the abundance and variety of worldwide escapades, involving lads and lasses from such a small place, is something to marvel at.
Jim Kostromin, as a village lad, could never in his wildest dreams, have envisaged the encounter that would one day be his in a sultry Burmese jungle, a long, long way from his home in Gower Place, Mumbles.
The Kostromins were a much liked, and respected, family with a Mumbles history stretching back many years. Sea salt Carl traced the family roots back to its origins in Finland and made several pilgrimages, to be received with open arms by his kinfolk. Goodness knows what devious route the first of this clan took to reach our shores, but I like to think that having landed, they did all the pillaging that tradition demanded and then observed how very lovely were our Mumbles lasses. This coupled with a laverbread and cockle breakfast, brought enlightenment to some of the flaxen horde. They stayed.
(On the other hand, for all I know, they could have arrived on the Mumbles Train.)
I remember the family as near-neighbours in Westbourne Place. Head of the family was dignified, quiet sage, Hermann. His wife was more outgoing, being an exuberant participator in many Mumbles activities, not the least being her wartime Red Cross duties in the old British Legion Hall, on Station Square. Youngest son, Alfie, joined the RAF in 1937 and later, fought a fine war, surviving the evacuation from Dunkirk Beach in 1940. In the 'Old' Cinema (the Tivoli) daughter Olive, in her capacity as usherette, was renowned for her disciplinary control of overenthusiastic Mumbles kids, (her blood encrusted torch was tangible evidence of this, as was that of her co-usherette, Dolly Chugg). A photo of the Tivoli from the 1930s










Son, Alex, was a mechanical genius with a sense of humour that should have had him certified. He, too, lived in Westbourne Place with wife, Queenie (nee Foy). When nothing could be fixed, Alex was sent for. In wartime Mumbles, Archdeacon Harold Williams, being frustrated everywhere he turned, sent for Alex to repair the Church clock. Damaged parts were irreplaceable, so, Alex actually made them! When the pre-selected gearbox on the Vicar's Lanchester started to malfunction, the worthy cleric was told that it was impossible to repair in wartime.











Alex was sent for. He looked at it, stripped it down, cleaned, readjusted and reassembled. It functioned flawlessly, this in spite of him never having seen such a sophisticated piece of gearing before! His lunacy would be demonstrated frequently and on one occasion, following the gift of a Swiss cuckoo clock, the constant hourly calls by this inoffensive little feathered creature became intolerable. At noon one day, he was waiting. By the second "cuck!" Alex had shot him with his airgun. To no avail! The little bird persevered through his full quota. For the next few weeks, every noon, Alex fired. Eventually, there was silence. One of two conclusions can be drawn from this extended execution, either the durability of Swiss workmanship was to be envied, or, Home Guard Alex was a lousy marksman.
Family Entrepreneur
This then, briefly, was the multi talented family of which Jim was a member and he, too, excelled in his own different way. Armed with a Swansea Grammar School education, a remarkably high IQ and a devastatingly dry wit- he became the entrepreneur of the family.
In the 1920s, as a youngster, he had the prescience to see the enormous potential that lie in the burgeoning radio industry. Technical College training gave him the proficiency in this new technology and he was soon to open up a radio business in Gower Place, Mumbles (now the site of Taffy's the Hairdresser's). He supplied the full Monty of new wireless sets, repairs, batteries and accumulator charging (vital in a Mumbles where most homes had no electricity). He ran a successful business and the comfortable accommodation above the shop was to be his family home for the rest of his life.
He played to a far wider audience with his outdoor relay services- Kostromin's Radio Relay- which became part of the Mumbles social scene. He played sweet recorded dance music over his speakers at all the Castle Field fetes, at Southend's Dancing on the Green, Mumbles Pier shindigs, and the like. People of my generation will recall with great nostalgia, August evenings drawing in with a blazing red sun sinking behind Oystermouth Castle.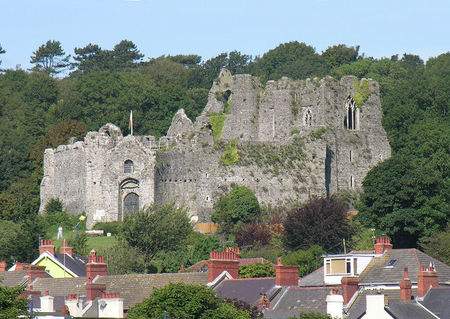 As the shadows lengthened across the Field, fairy lights would flicker to life all around the arena and the romantic, melodious dance music of Jack Payne and his orchestra would drift out across the throng. The first hesitant few would step out to dance, to be followed by many hundreds of other couples and soon the lovely amphitheatre would be packed with swaying figures. Magic unforgettable moments, when many romantic promises were whispered into ready ears, under a star filled sky!
Secret Technology
The outbreak of war in September 1939 brought all this to an abrupt end and along with the great majority of young Mumbles people, Jim was called to serve in the Armed Forces, in his case, the RAF. Early selection procedures segregated him from the rank and file for training in advanced radio communication and this, inevitably, led into the, relatively new and highly secret technology of RADAR. He was commissioned, posted to SEAC in India and then, sent on to serve in RADAR defence units on the fringe of the combat areas in Burma, his promotion to Flight Lieutenant soon followed.
May 1945 brought victory in Europe that enabled the Allies to concentrate all efforts upon the last mammoth task of defeating the Japanese. All equipment including RADAR was updated and made ready for the last great battles against a weakening, yet fanatically inspired, Nipponese army. Although never in direct front line combat, Jim with his increasing responsibilities was promoted to Squadron Leader.
A long and bloody war was being catered for.
However, this was not to be, the shock nuclear attack on the Japanese mainland, in August, brought about a dramatic laying down of arms by the enemy. The fighting men in the field could hardly believe that such a savage, ruthless enemy as the Japanese would succumb in such an anticlimactic way. Yet they did, the fighting was over!
Communication 'from above'
Two days later, Jim's state of euphoria was severely disrupted, when a British Army major materialised at his quarters. He dropped a bombshell! He told Jim that a communication 'from above', had informed him that Squadron Leader J. Kostromin was the most senior officer in the field and, as such, was to attend a formal surrender ceremony of the Japanese Units in that area, that very afternoon. He would be collected by jeep. Jim protested in vain.
Clad in the best uniform that he could muster, he was picked up by the major and an escort of two Redcaps (who, as ever, looked infuriatingly immaculate). The party lurched and bumped its way up the track for a mile or so to what had recently been the forward lines of the Allied Forces. Here in a clearing, surrounded by British and Commonwealth troops, stood a group of officers to whom, Jim was escorted. There was a conspicuous presence of the redcapped Military Police. Another major explained to Jim his role. He was to accept a sword from a Japanese general as a symbol of his unit's surrender. He was not to speak, salute or bow. Just to take the sword with quiet, contemptuous dignity. There was to be no demonstration of respect. With no battle experience, Jim felt inadequate and again protested that he had never fired a shot in anger.
He was told to get on with it.
They walked to the middle of the clearing and were positioned by a Redcap. There was no delay. The quiet buzz of conversation from the surrounding multitude ceased and there was a hush of expectancy. A British Army captain entered the arena from the track facing and, following, dwarfed by an escort of six military police, came two Japanese officers in drab soiled uniforms. They approached Jim's group.