Volume 121 Number 4 JULY 2020
---
---
July 2020 Magazine
Oystermouth Parish Magazine
The Church was open for private prayer for the first time since the lockdown
on Sunday 5th July
JULY 2020
The Church is now open for prayer on Sundays and preparing for the
return of public worship
---
The Vicar Writes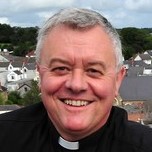 Dear friends,
One of my favourite hymn writers is the Anglican priest, John Newton, who wrote over two hundred hymns during his long ministry. Among the most famous are 'How sweet the name of Jesus sounds' and 'Glorious things of thee are spoken'. But he is especially known as the author of one of the most popular hymns in the world, 'Amazing grace'.
But John Newton had something of a chequered history!
In 1736 he went off to sea when he was just eleven years of age. In his late teens he was destined to be a slave master at a sugar plantation in Jamaica but joined the Merchant Navy instead. He was press ganged into the Royal Navy and became a midshipman. But he wasn't a popular member of the crew and gained a reputation for being rebellious, hedonistic and a blasphemer. After attempting to desert he received eight dozen lashes in front of the ship's company. He contemplated murdering the captain or committing suicide by jumping overboard, but he was eventually released by the Royal Navy and joined a slave ship. That crew didn't like him either and left him behind with slave traders in Seirra Leone. He then became a slave himself to an African Princess who treated him cruelly for three years before he was eventually rescued. On the return voyage to Liverpool his ship was caught in a violent storm off the coast of County Donegal. It was so severe that he prayed for deliverance. This, together with another brush with death, was to begin his conversion to Christianity.
The experience of being a slave himself didn't put him off returning to the slave trade. He served as captain of two vessesls that carried thousands of trafficked men, women and children from Africa to the plantations in the Americas. Like many at the time he saw slavery as morally acceptable, as a trading opportunity and a way of making Britain 'Great'. He was known for being ruthless in quashing the uprisings of the slaves with the musket and the lash.
After suffering a stroke when he was just 29, he gave up seafaring and worked as a Tide Surveyor in Liverpool docks. It was during this time that he began to think more seriously about the Christian faith. He studied Hebrew and Greek and became a popular lay preacher. Having been rejected for ministry by the Methodists he sought ordination in the Church of England. It took seven years for him to be accepted and he eventually became Curate of Olney in Buckinghamshire and, in 1779, Rector of St Mary's, Woolnoth, in London. He was such a charismatic that his Churches often coudn't accommodate the hundreds of people who came to listen to him.
It was during the early years of his ministry that he began to bitterly regret his involvement in the Slave Trade. It's said that he felt haunted by the ghosts of ten thousand Africans. He began to speak out against the trade and, when he moved to London, his advice on the subject was sought by many influential figures in Georgian society. Among them was the young MP, William Wilberforce. Wilberforce was contemplating leaving politics to take holy orders but it was Newton who pursuaded him to 'serve God where he was'. Wilberfoce remained at Westminster and devoted much of his life working towards the abolition of slavery.
In 1787 John Newton published a tract supporting the abolition campaign called, 'Thoughts upon the African Slave Trade'. In it, he wrote, "It will always be a subject of humiliating reflection to me that I was once an active instrument in a business at which my heart now shudders." It was hugely influential and helped Wilberforce during the long campaign to eventually pass his Abolition Act in 1807. It's said that Newton, almost blind and near to death 'rejoiced to hear the wonderful news'.
Newton died just months after the Abolition victory. He was buried with his late wife and the epitaph on his memorial had been penned by himself. 'John Newton. Clerk. Once an infidel and libertine a servant of slaves in Africa was by the rich mercy of our Lord and Saviour Jesus Christ preserved, restored, pardoned and appointed to preach the faith he had long laboured to destroy. Near 16 years as Curate of this parish and 28 years as Rector of St. Mary Woolnoth.'
The Slave Trade and its legacy have been very much in the news these last few weeks. The murder of George Floyd in Minneappolis, at the hand of a police officer last month, has caused justifiable outrage across America and the world. It has brought to light the ongoing
issue of racism and has led to the 'Black lives matter' movement and demonstrations in many major global cities, not all of them peaceful.
It has also led to a campaign to remove statues and monuments to those prominant British citizens involved in the Slave Trade. We have seen the toppling of the statue of Edward Colston in Bristol and the call to remove the statues of Cecil Rhodes at Oriel College, Oxford, and Thomas Picton in the 'Heroes of Wales' Hall in Cardiff. These men, and many others like them, were seen as fine upstanding members of the society of their day.
The debate has shown that what was morally acceptable and justified in the past can be seen as repugnant and indefensible in the present. The current debate is challenging us to acknowledge the sins of our forebears and the terrible suffering they caused to so many innocent people who were snatched from their homes and sold into slavery.
As we do so, we should also reflect on the issues of our own day that might well be vilified in the future. These include our failure to adequately respond to poverty in the developing world, to human trafficking and modern slavery, the refugee crisis and the damage we are doing to the environment.
Modern day iconoclasts might well call for the removal of memorials to John Newton, because of his role in the Slave Trade, but I very much hope not. For his story reminds us how individuals and society can change. Through his evangelical conversion he repented of his past sins, made reparation and became a leading figure in the long campaign that led to the abolition of the Slave Trade. His life reminds us that what the world actually needs is 'conversion'. It's why he penned his famous hymn;
"Amazing Grace, how sweet the sound that saved a wretch like me.
I once was lost, but now am found, was blind but now I see."
With every blessing,

---
In Memoriam
Barbara [Barbie] Glover
Barbie was laid to rest with her beloved husband, Mark, in Oystermouth cemetery on Tuesday 16th June.
Barbie was well known in Mumbles and served as a Lollipop Lady at Oystermouth School for many years. She had a delightful, generous and caring nature.
In her younger days she left All Saints' to become a Methodist, because she didn't like what she called the 'parrot fashion' nature of the services. But, later in life, she returned to All Saints' and took great comfort from the familiarity of the Book of Common Prayer. She attended the Tuesday morning celebration of the Holy Eucharist and Evensong on Sunday evenings, when she would stand at the door offering worshippers a selection of her sweets [to be sucked during the sermon], whether they wanted them or not!
Barbie will remembered as a faithful and devout Christian, a loving sister and aunt. We offer her family our deepest sympathy at this time.
Peter Leleu
A Service of Thanksgiving for Peter's life was held at Llanelli Crematorium on Thursday 2nd July. It was attended by close family.
Peter was well known in Mumbles, working as an Insurance Broker until well in his eighties. He had a long association with Mumbles Rugby Club, the RNLI, the Scout movement in Gower and with the Glyn Vivian Home in Newton. He also served as a local magistrate.
He was a faithful member, with his wife Pam, of All Saints' and worshipped at the 8 o'clock Eucharist on Sundays and at the Tuesday morning service.
Peter and Pam celebrated their Diamond Wedding Anniversary at the beginning of June and he would have celebrated his 90th birthday later this month.
He will be remembered as a devoted husband and family man, and a faithful Christian
---
Jordan is Ordained Deacon
We are delighted to report that our parish ordinand, Jordan Spencer, was ordained Deacon on Sunday 28th June at St David's Church, Abergwili. Because of the Coronavirus restrictions the service was a 'low key' celebration with only the three candidates, the Bishop and a few others present [photograph below].
Jordan was due to be ordained in Swansea and Brecon next year. However, Luke's appointment as Head of Music at the Church Secondary School in St David's has meant that he had to look west for future ministry.
As he has already completed three years of ministerial training, at Cambridge and Llandaff, the Bishop of St David's decided to ordain him this year. He should be awarded a Bachelor of Theology degree from Cardiff University this month.
Jordan will serve his 'Title' [as it is called] in the Parish of Fishguard in North Pembrokeshire and within the Local Ministry Area there.
Most Anglican clerics serve their first year of ministry as a Deacon. A Deacon is part of the historic threefold ministry of the Church, along with priests and bishops. The name means 'servant' or 'messenger'. A Deacon's calling is to minister to people within the Church and in the wider community. At the Holy Eucharist they assist the priest by proclaiming the Gospel, preaching and dismissing the congregation at the end of the service. They also have distinctive vestments, wearing a stole over the left shoulder, tied cross-wise on the right side, and a 'Dalmatic' at the Eucharist [Jordan is wearing our Dalmatic in the above photograph]. Those who are ordained priests never cease to be deacons. Priests can serve as a deacon at the Holy Eucharist, which our clergy frequently do on Sunday mornings.
As we wish Jordan well for his future ministry we thank him for all that he has done within our parish over the last four years. He set up our Messy Church, sang in the choir, was part of our Night Shelter team and helped to lead worship at All Saints' and Norton Mission. But it is his pastoral heart that we will be most thankful for. Many have benefitted from his natural and caring nature for others. He will make a fine deacon and priest. Swansea and Brecon's loss will be very much St David's gain.
It's a tradition of ours to show our thanks and support to parish ordinands by presenting them with a gift to remember us by.
Just before the ordination service the Vicar presented Jordan with a set of stoles, in the four liturgical colours [shown left]. We hope that, when he wears them, he will think of the many friends he has made at All Saints' and Norton Mission.
A Prayer for the newly Ordained
Almighty God, who led your apostles to ordain ministers to serve in all the churches: pour out your Holy Spirit on Jordan and on all who are to be ordained at this time for ministry in Word and Sacrament: that they may be strengthened for the work you have called them to and be faithful shepherds of your flock and to the glory of your name; through Jesus Christ our Lord. Amen.
---
First steps towards re-opening Churches
Archdeacon Jonathan Writes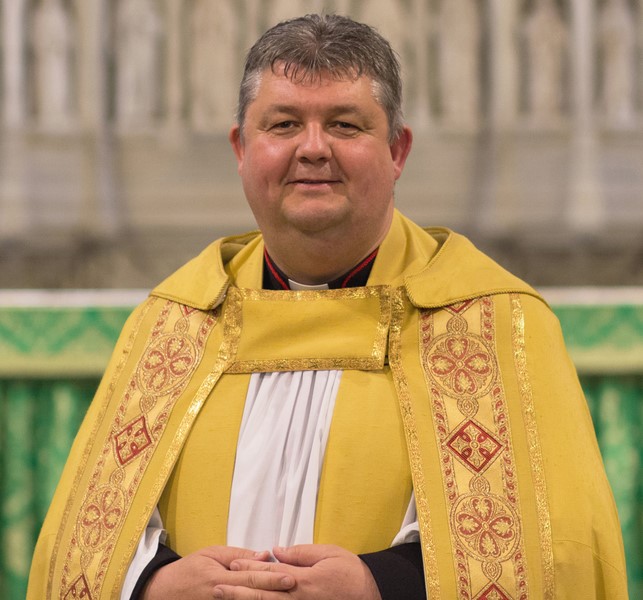 Annwyl Ffrindiau / Dear Friends,
I write following the announcement from the First Minister that churches can reopen for private prayer from Monday 22 June 2020.
Firstly, there is no requirement from the Welsh Government or the Bishops of the Church in Wales that all churches should re-open at this time. The Welsh Government has set out a broad framework for re-opening based on a 'trafficlight' approach as public health advice indicates the restrictions can be eased. The traffic lights are:
Lockdown: Closure of places of worship with the exceptions as detailed by the Welsh Government.
Red: Opening of places of worship for private prayer under physical distancing. The risk control measures required to consider opening a church under this phase are substantial.
Amber: Limit services and size of congregations linked to ability to ensure physical distancing.
Green: All places open with full range of services alongside physical distancing.
The decision regarding the point at which it would be safe, having completed the detailed risk assessment and having the right number of volunteers in place [who are not in a vulnerable group or self-isolating] to re-open, is a matter for Ministry Area clergy in consultation with their PCC's. The decision will be closely linked to the ability to implement the risk control measures required by the Welsh Government so that everyone is kept safe.
In light of the above, and following some discussion with PCC members via email, Ministry Area clergy are now in a position to make the following statement:
'Most of you will by now have heard that providing churches can adhere to some very strict criteria and put in place detailed precautions and risk assessments they can individually ask for permission to be allowed to open during certain set times. The clergy of the Ministry Area are delighted by this first tentative step towards our churches being allowed to re-open, please be patient as we try to comply with the necessary arrangements. One church in our Ministry Area will open very soon for a trial period – details will be communicated very soon.'
Please continue to listen to the advice given and stay safe as lockdown restrictions are set to be eased this month.
Pob bendith / Every blessing
---
Church Finances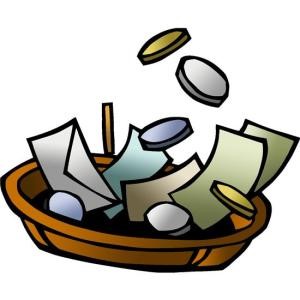 We again thank those who have signed up for the Church in Wales 'Gift Direct' scheme or who have set up standing orders for their giving through the lockdown. We've also had several cheques posted to us which will be paid in this month. It's all such a help as the Church faces an uncertain financial future.
Most of our regular worshippers have told us that they are putting their weekly envelopes aside and will bring them to Church when it reopens – and we thank those who have made that commitment.
Fortunately, the Church in Wales, through the diocese, now has a scheme to help the parishes during the crisis. In the second quarter of the year there will be a 77% reduction in the share we have to pay [a welcome drop from £19,072 to £4,387]. This will be a great help to us and we are hoping that a similar scheme will be in place for the third quarter of the year.
Many thanks for your continued support.
---
We wish Bev Lansdowne every blessing as she settles into her new home in Plunch Lane. The move from Norton to Limeslade was made last month.
We hope that she will be very happy there, especially living next door to new neighbours Canon Robert & Christine Jones.
Happy 80th Birthday
Brian Brent, who sings tenor in the Church Choir, celebrates being 80 years young on July 27th.
We wish him many happy returns and hope that he will have an enjoyable day of celebration.
Happy 70th Birthday
Lord Oystermouth celebrated his 70th birthday recently. As a famous son of the parish we send him our love and good wishes.
Golden Weddings
We congratulate Tony and Dinah Cottle as they celebrate their Golden Wedding Anniversary on the 30th July.
Tony and Dinah are much loved in the community of Mumbles and bring so much happiness to everyone.
Their many friends at All Saints' and Norton send their warmest good wishes for such a wonderful milestone in their life together.
We also send our good wishes to Angela and Roger Beard [nee Swales] as they celebrate their Golden Wedding Anniversary. They were married at All Saints' just a few days before the Cottles, on the 27th July 1970.
Church Grounds
During the lockdown the City Council has carried out just basic maintenance of the Churchyard. So it's looking a little uncared for with lots of weeds around the Church.
If anyone could give an hour a week to help tidy up and weed we would be very grateful. It's something we can do on our own or as a couple. Just turn up when it's convenient to you. We have plenty of garden refuse bags available in the wooden store box.
Magazine Notes
Notes for the August edition of the Parish Magazine need to be in by Sunday 26th July at the latest please.
Contributions can be emailed to the Vicar at: revkeithevans@talktalk.net
Ministry Area Online Worship
We continue to send out online worship resources as a Mumbles Ministry Area.
Our written 'Service of the Word' goes out to around three hundred people.
Canon Chris Darvill has attracted a large following for his Sunday and Midweek pre-recorded services.
Llwynderw parish also has an occasional service that is broadcast online.
It's estimated that around one in three people in the UK are accessing online worship in this way, far more than usually go to Church [which is normally one in ten].
On one day in May so many Christians were using 'Zoom' for collective worship that the site actually crashed!
It shows what opportunities there may be for the Church when we eventually come out of lockdown.
It's good to know that here in Mumbles we are doing our bit too!
Well Wishes
We send our good wishes for a speedy recovery to those who
have been ill, in hospital or at home, or undergoing treatment recently;
Charles Billings has had surgery in Morriston Hospital and we wish him a speedy recovery.
Betty Jenkins, Beryl Richards and Jean Ricci have also been in and out of hospital.
We've had a few messages from Pam Thorpe, who is doing very well in a Home near to her son in North Wales.
We send our love to them and to Fr David and Merlys Watkins, Sheila Rees, Maria Gomez, John Sutton, Elizabeth Pass, Bud Williams, Liz Batcup and Margaret David.
We continue to send you our love and prayers at this time.
Sympathy
We offer our deepest sympathy to Daniel and Lucy Rogers and the family on the sad loss of their mother, Jane.
Jane was always so proud of Daniel's musical achievements at All Saints' and we send the family our love and prayers
---
For up to date news follow us on Facebook or the Parish Website:
---
Education and Religion
Over the years education and religion went together, hand-in-hand.
Hugh Gore was the eldest son of John Gore, Archdeacon of Lismore and was a relative of the earls of Arran. He was born at Maiden Newton in Dorset in 1613 but was sent to school in Lismore in Ireland. From there he proceeded to Trinity College, Oxford, where he matriculated in June 1628. He left Oxford after a few terms and went to Trinity College, Dublin, where he ultimately graduated D.D. On becoming a priest he held livings in Nicholaston and Oxwich in Gower. He was ejected from his livings in 1650 under the Propagation Act of the Commonwealth for delinquency and refusing the engagement, after which he kept a school in Swansea. During his time in the area he became very friendly with "Bussy" Mansel and was under the patronage of the Mansel family. Bussy was the son of Arthur Mansel of Briton Ferry and had an income of £1100 per annum and was patron of three livings in 1645. The Mansel family, the senior line of which was seated at Margam Abbey, played a major role in the early settlings of the Gower Peninsular.
After the Restoration Hugh Gore received preferment in Ireland, becoming the bishop of Waterford and Lismore in 1666. In 1682 his affection for the town of Swansea and its people led him to endow, with the help of Bussy Mansel, a "ffree Grammar Schoole... for the bringing up and education... of the children and youths of the Corporation, Towne and Burgh, sons of the poorer sort of the Burgesses"... in Virtue and Good Literature. The original foundation deeds drawn up by Gore and Bussy Mansell are still preserved in Swansea Guildhall. Bishop Gore retired to live in Swansea in 1689 and was buried in St. Mary's Church on 27 March 1891.
The original school was situated in Goat Street and moved a few times and was bombed in 1941 before moving to its present site in Sketty after Easter 1951.
In the school magazine dated April 1918 the following appears; "The House system has also been introduced and is a great success. The boys are imbued with a fine esprit-de-corps, and games are feeling the benefit." They are referred to as Aberdare, Bishop Gore, Bishop Gwynne and Mansel, and the headmaster at that time was John Trevor Owen who was head from 1901 to 1929. Mr Owen was the grandfather of Mark Portsmouth, ex Lloyds Bank, Mumbles Cricket Club and Langland Bay Golf Club
It was obvious that Gore House was named after the founder Bishop Gore, who founded the school in 1682 to educate the poor of Swansea in "Virtue and Good Literature". Mansel House was named after Bussy Mansel who was born in Briton Ferry, the son of Arthur and Jane Mansel who were wealthy landowners. He became a very good friend of Hugh Gore and co-founded the school, financing its formation.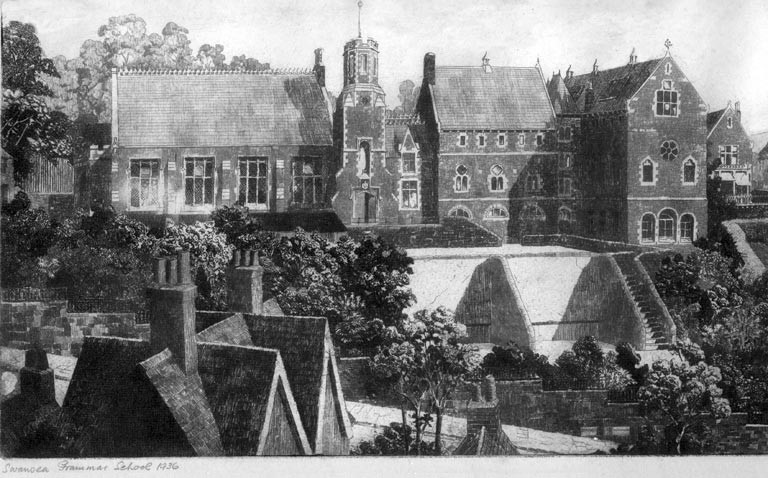 The other two Houses were named after eminent former pupils. Llewellyn Henry Gwynne was the son of a schoolteacher in Kilvey school and was born in 1863. He attended Swansea Grammar School and was encouraged to study the Bible. He continued at the Theological Colleges of Derby and Nottingham and actually played football for both Derby and Notts County. He went to Sudan as a missionary, stayed in Khartoum where he founded a girls' school, was chaplain to the British forces in Sudan and became the Bishop of Khartoum. He retired in 1946 and died in 1957. Gwynne House was named after him.
Henry Austin Bruce was born at Dyffryn, Aberdare in 1815. His parents John Bruce and mother Sarah, the daughter of the Reverend Hugh Austin, were landowners who inherited the Duffryn Estate. They took their young son to France when he was 6 but at the age of 12 he returned to Wales to be educated at the Swansea Grammar School. He became the M.P. for Merthyr Tydfil and Aberdare and a trustee of Dowlais Iron works. Prime Minister William Ewart Gladstone invited him to become Home Secretary in 1868 and in 1873 he moved into the House of Lords when he became the First Lord Aberdare and Aberdare House was named after him.
Whichever school year you look at, it is likely that you will find eminent former pupils, Dylan Thomas himself being one of them who joined the school in 1925. Those who attended the Tercentenary Dinner in 1982 will recall that Professor Sir Sam Edwards was the guest speaker that night. In the same year as him in school were another two famous old boys. John Morgan, who became a journalist with the New Statesman, The Spectator and the Sunday Times among others and also a broadcaster with the BBC presenting the programme Panorama.
John Morgan's close friend in school was a lad from Tycoch named Paul Ferris. Although friends they competed against each other to become top of the form. Paul started work with the Evening Post then moved to London as a freelance writer for the Observer and became its radio critic. He wrote for radio, various talks and features, and was employed by Womans Own to edit reader's letters and invent some of his own. He has written many books including the standard biography of Dylan Thomas, and one of Dylan's wife, Caitlin. He is widely regarded as an expert on the works and life of Dylan Thomas
As I said, education and religion went hand-in-hand, then politicians took over.
Gerald Lindenburn
Photographs: page 6 top left: Bishop Hugh Gore [Wikipedia], bottom right: Swansea Grammar School [Old Goreans website], page 7: top right: Bishop Llewellyn Gwynne [Unity High School, Khartoum], bottom right: Bishop Gore School [Jim Young]
---
M.A.G. Notes
Hello ladies just thought I would keep in touch until we can resume our meetings. I'm looking forward to that day. It would be nice if we were able to meet in September, when we can start our session with a "Free Meal."
I would also like to send our good and best wishes to Betty Jenkins as she commences her treatment this month. We are delighted to hear that Beryl Richards and Jean Ricci are now home from hospital'
We send our sincere condolences to Pam on the sad loss of her husband Peter.
Take care all of you during this pandemic time. Looking forward to seeing you all in the not too distant future.
Brenda
---
Lord Oystermouth reflects on the Lockdown
My first thought as things began to shut down in mid-March was 'This must have been what it felt like in 1939, a great disruption to "normal" life and no sense of how long it would last.' Well, we're not facing bombing or conscription, not even rationing in the strict sense; but there is a real echo. And it's quite important to recognise it: it's a reminder that post-war generations have been remarkably lucky, and that our parents and grandparents had to find their way in even more uncharted territory, with even more risk to life and livelihood.
Something about that wartime experience undoubtedly fed into the post-war social revolution. People had been forced to think not just about winning the war but about what it took to create a society that had more genuinely human priorities than had been on show in the twenties and thirties. What mattered most was to make sure that society made people safe, and the difference between making people safe and making [some] people rich was at the heart of that quiet revolution, the Welfare State, of which most of us are the unconscious heirs.
We're told regularly that our society and politics will never be the same again. Unfortunately, we've heard that rather a lot in the last two decades, after 9/11, after the financial crash, and perhaps our reaction will be a bit sceptical. But for once this just might be true. We have had a taste of the potential tsunami that could be released by the combination of globalised trade and travel, reactive and ungenerous funding of public services, un-coordinated international policies of crisis management, and political complacency. Many have been warning for some time of the risks of global pandemic, and many are now stressing that the present challenge is a kind of foreshadowing of what intensified climate disaster might look like. It's harder to deny the problems when they are quite so visibly on our doorsteps.
And, not really surprisingly, we see yet again the resilience and generosity of so many, especially those who've been volunteering to keep the health services going, and the inventiveness of all those who are finding new ways of connecting and supporting in the digital world. Often it takes a crisis to make people focus on what and who really matters to them; and the answer seems to be, encouragingly, that what matters is people – relationships, a steady background of affection and trust, the ability to nourish love and friendship by shared activities and shared enjoyment.
Such a very basic thing! Yet our politics and our working patterns have stifled these matters pretty successfully. If we find time on our hands for thought during this strange period of disruption, perhaps one question we can be pondering is how we connect our politics once again to what we think really matters. If we, or a lot of us, are cynical about politics, isn't it partly because we can't see that our public life reflects things that matter to us, like the safety of those we love, the future of our children, the sheer stability of our social fabric?
Human priorities: that's what we need to think through at this time: how we make a society that is genuinely secure for everyone, especially those who currently have little leverage or room to manoeuvre when things get difficult.
And in the meantime, with all the anxiety, and, for a good many, the reality of physical illness and the acute pain of loss, can we keep asking, quietly but persistently, 'What are we going to learn from all this?' Business as usual won't actually be possible; so, we'd do well to think about what kind of 'business' will make us more rather than less human in the future.
Rowan Williams
[This reflection was published in the latest edition of the Old Dyvorian's Magazine. It was sent in by Stuart Batcup who, like Lord Oystermouth, attended Dynevor School. The above photograph is from Wikipedia and was taken by 'Brian of Toronto']
---
Images of the Past - Dickslade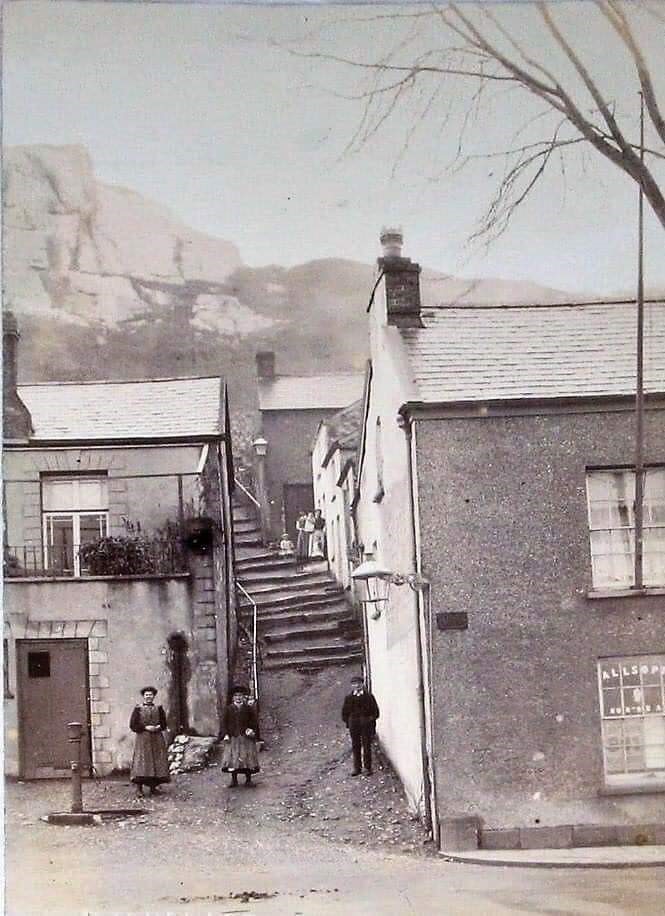 Neil Norman sent in this interesting old photograph of Dickslade which his son, Mike, came across recently.
It shows the George Public House to the left and the Beaufort Arms to the right [formerly the 'Old Mermaid']. The limestone cliffs can be clearly seen above the houses, before they were covered in vegetation and trees.
We don't know when the photograph was taken, but it has to be pre 1920 because that was the year the Beaufort Arms closed and became a private residence.
Another clue is the length of the women's skirts, suggesting the Edwardian rather than the Victorian period.
We don't know anything about the people in the photograph. They were obviously local residents. The image shows the poverty in Mumbles a hundred years ago.
If anyone can shed more light on the photograph, or has any information about Dickslade, please let us know.
---
Music Ministry at All Saints
Most of us will have heard by now that our Director of Music at All Saints', Luke Spencer, has been appointed Head of Music and Creative Arts at Ysgol Bryn Dewi in St David's.
Though this is great news for Luke it is sad news for us, as his move to West Wales means that he will be too far away to continue as our Director of Music.
Luke began his music ministry with us in January 2016. Since then, he has worked with Hywel Evans [Assistant Director of Music] in developing the choir and the fine choral tradition at All Saints'. He has also been Artistic Director of our successful Mumbles Festival of Music and the Arts for the last four years.
Since coming to All Saints' Luke has overseen some major choral events; including performances of Karl Jenkins' 'Stabat Mater' and Handel's 'Messiah, featuring our choir with singers from Morriston Tabernacle and Cardiff Bach Choirs. He has also entertained us at social events with his unique 'One Man Show', and organised a gruelling but enjoyable 24 hour 'Hymnathon' which raised thousands of pounds for charity and the Organ appeal.
It goes without saying that we thank Luke for all that he has done and we hope that we will have the opportunity to thank him in person when Church life returns to normal again. In the meantime, we wish him every blessing for the future.
The process of appointing a new Director of Music will begin this summer.
---
A Trek through old Mumbles Village and Thistleboon
Part 3
We paused our trek through eighteen forties and nineteen fifties Mumbles Village at No 1 Thistleboon Road enjoying a 'virtual pint' in the old ale house that was once there. As will be seen from the 1844 Map the view to the East was over part of Thistleboon Meadows towards the Hilly Field. The Hilly Field was still there in the nineteen fifties, too steep for any arable farming and only fit for sheep grazing. But it was a paradise for children!
Many happy hours were spent on the Hilly Field sliding down very fast on bits of cadged cardboard, or just rolling over and over on our sides or more daringly tumble tossing which made it much more difficult to stop. On the very rare occasions that we had snow and went there with our sleds it was impossible to stop and our adventures were fairly short lived when we went through the hedges and fences at the rear of the houses on Bryn Terrace. Tattered and torn some of us would then try to toboggan down Tichborne Street, only to crash into the wall of Thistleboon Stores as Mr Jones' shop was then known.
Why was it called Tichborne Street? Good Question. Most of our local historians thought it may have had something to do with the famous Tichborne Case, a legal cause celebre that captivated Victorian Britain in the 1860s and 1870s. John Court seems pretty sure that that was the case as his grandfather William and his brother Matt Smith built the houses on Tichborne Street, Bryn Terrace, The Woods and Nos 2 to 10 Thistleboon Road in the last quarter of the nineteenth century, and that was the tale passed down the family.
As a lawyer I too was captivated by the Tichborne case as a matter of legal history. It concerned the claims made by a man sometimes referred to as Thomas Castro or Arthur Orton ['the Claimant'] who claimed to be the heir to the Roman Catholic Tichborne baronetcy and the substantial landed estates at Tichborne Park near Alresford in Hampshire, and the annual income from it of £20,000, equivalent to £2,278,000 in today's terms. Sir Roger Tichborne the heir to the estate was lost at sea off Rio de Janeiro in April 1854. In February 1863 his mother Lady Tichborne, encouraged by a clairvoyant's assurance that he was alive and well, began placing regular advertisements to find him in The Times followed by some Australian newspapers, offering a reward.
Unsurprisingly the Claimant, a bankrupt butcher from Wagga Wagga in Australia crawled out of the woodwork. His claim in the Civil Court went on from May 1871 to March 1872 when the jury rejected the suit with costs of about £80,000 then against the Claimant. The judge Chief Justice Bovill ordered the Claimant's arrest on charges of perjury and committed him to Newgate Prison. The criminal trial that followed was then one of the lengthiest cases heard in an English Court, beginning on 21 April 1873 and ending on 28 February 1874, occupying 188 court days.
Needless to say, the Claimant was found guilty and sentenced to 14 years for perjury, but that wasn't the end of the case. His Irish barrister Edward Kenealy QC was disbarred over his conduct of the case, insulting the judges and abusing the Roman Catholic Church.
After serving 11 years the Claimant was released, toured Music Halls with decreasing success and died destitute on 1 April 1898 aged 64. He was buried in Paddington Cemetery and his coffin was inscribed 'Sir Roger Charles Doughty Tichborne'. In 1925 his widow died in Southampton Workhouse where she had been known as 'Lady Tichborne'.
There doesn't seem to have been any connection between the characters in this tale and our local gentry, but the timing of the case coinciding with the building of the terraces of houses on the very steep incline gives the tale its credence. Perhaps the fact that 'Tichborne' almost rhymes with 'Thistleboon' was another reason? After all the two words do trip off the tongue quite nicely!
But back to the twentieth century. As I sit looking up Tichborne Street I remember that there were some very pretty girls living on the right hand side; Margaret Paine, Liz Reeves and Pat and Celia Hoppe. The Cook family lived on the left hand side as well as Brian 'Bunny' Evans and Lucy Morgan who later helped hone my skills as a Barman at the Pier Hotel with the doughty Landlord Jack Bartlett. My fellow tenor in All Saints Church Choir, Roy Webborn was a much older product of Bryn Terrace who became one of my inspirations.
At that time one of the pair of semi-detached houses at the end of the Terrace was the home of Fred Boyle and the other of the Grenfell Family. The older brother, Harold was to become the well known photographer to the Gower Society's annual Journal. His younger brother Clive 'Grannie' Grenfell was my Sixer in the 1st Mumbles Cubs, one of the first to lead me astray!
I have only recently discovered that the Parish's own Moira Sutton also lived in that house as a child between 1943 and 1947 when the family moved away. She was a pupil at St Anne's Convent School, has happy memories of the Head Teacher Sister Albert and describes her childhood at the Woods as idyllic. They certainly had one of the best views out over the Bay. She particularly remembers the VE Day and VJ Day Street parties held on Bryn Terrace in 1945 when her father set up a loudspeaker system from the Gramophone in their house for the music of the day, and as a six year old staying up late dancing to Glenn Miller's Orchestra. As the Terrace was, and is an unmade road, dancing must have been quite difficult.
Moira also remembers taking part, as an eight year old in the Pantomime 'Babes in the Wood' performed in the Church Hall [now the Ostreme Centre] between the 7th and 10th January 1947, and has even produced a copy of the Programme. It will be seen from this that the production was the work of the well known local impresario David Stockton assisted by his Dancing Mistress Eunice 'Madam' Stockton. The Pantomime Dame was Michael Charles' grandfather George Charles, and the 'Juveniles' of the Chorus numbered 34 well known village girls. Study these 'maidens' maiden names and you'll be surprised how many you know. Moira's maiden name was 'Sloggett' yes it was our Babs Lewis who was only 4.
Because Tichborne Street was so steep not a lot went on there until Eastertide 1962 as will be seen from the image I have obtained from the Mumbles Yacht Club Website. In the late Summer of 1961 Jeff Court who had just started an apprenticeship and was a keen sailor decided, with the help of his Father Les, a Master Carpenter, to build himself an Osprey Class Sailing dinghy. The old Stable on the left hand side of Tichborne Street that Jeff's grandfather had built was being used by Bob the builder who lived opposite as his workshop, but the first floor hayloft was no longer in use, and presented the ideal place for the project.
The construction of the yacht went on through the Autumn of 1961 through the Winter until it was completed in time for the 1962 Sailing Season. Building it was a labour of love by Uncle Les and Jeff assisted by his brother John and his sailing companions Bunny Evans and Tony Martin. I too spent a lot of time there during those months learning rather than helping. When it was finished the logistical problem of getting it out had to be tackled!
If my memory serves me correctly one of the doors to the Loft had to be taken off and a platform set up on the road for those below to receive it. Yes, that is me in the blue top getting a grip on the dinghy as it came out. fortunately, there were no mishaps and mounted on its trolley 'Crud y Gwint' was taken down to Southend for the mast and rigging to be installed before it was launched. It was a beautiful thing to behold and to sail in, and Jeff and his crew were successful in the many sailing competitions that were held in those days.
As a corollary to this, I then took over the Loft to restore a
badly damaged canoe that I had rescued from Langland, and with the things I had learned watching the building of the dinghy, and a lot of help from Uncle Les, and Andrew Macfarlane a retired upholsterer who lived opposite the project kept me busy for the next few months. I became quite close to both of these craftsmen, and particularly remember learning from Andrew the art of cutting, stretching and tacking the canvas.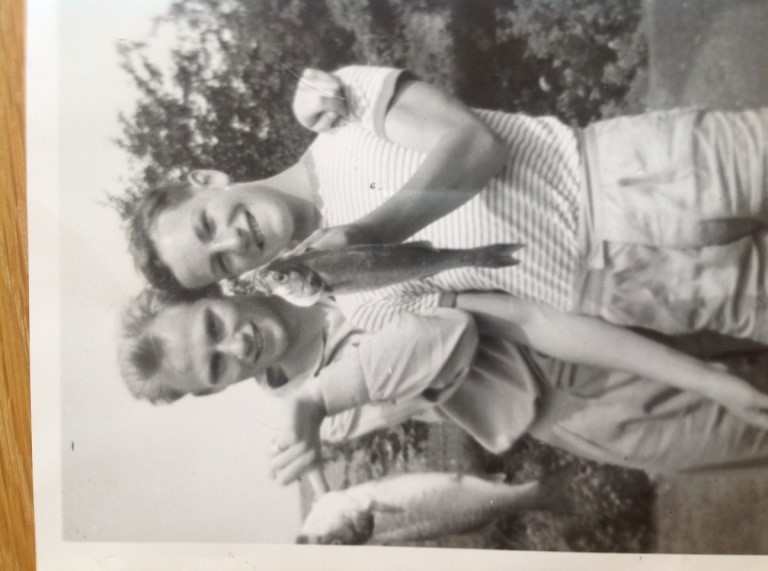 I was 17 at the time and in the Lower Sixth Form at Dynevor School, so there were no serious exams to interfere with my hobby. I kept a diary in those days and see that I varnished the canoe for the last time on Wednesday 18th July before breaking up for the School holidays on Friday 20th. Getting it out of the Loft wasn't too difficult, and with a pair of pram wheels as a trolley it soon found itself at the Rotherslade Beach Hut Site where we had Hut No 24.
The canoe was well used that Summer and in the Summer of 1963, not only for the pleasure of canoeing as far as Pwll Du, but for surfing in those pre surfboard days, and more importantly for chatting up the girls at Langland. I have no photos of the canoe but the photo shows me with John Court that summer holding up the first Sea Bass that I caught out of it at Whiteshell Point. It seemed a lot bigger then than it looks like now!
The photo taken on Tichborne Street clearly shows Mr Jones' Thistleboon Stores in the background where I will linger until I move on to the next section of my Trek.
Stuart Batcup [June 2020]
Next Month's Magazine
Next month we plan to publish a new article by Kate Jones called, 'The best traditions of the Mumbles Lifeboat'. It takes us back to 1920, to two famous rescues at sea and paints a picture of life in our community as it emerged from the Great War and the global influenza pandemic.
News from Our Twin Parish – St Thomas
Last year we began the process of twinning with St Thomas Church on the other side of Swansea Bay. The Parish Priest there is our former Curate, Steve Bunting, and our Vicar is a former Curate of St Thomas.
Work is underway to completely transform St Thomas into a Church and Community Hub. This £1 million redevelopment is a hugely exciting project and will help the Church to reach out to the community through the work of Baby Basics, Credit Union, Foodbank, Community Cafe and the Night Shelter.
Steve has achieved this almost singlehandedly and we hope, when the lockdown eventually ends, to look at ways of supporting his vision for the mission of the Church on the Eastside. So please watch this space!
---
Parish of Oystermouth
Contact details:
Vicar: Revd. Canon Keith Evans DL,
The Vicarage, 9, Western Close, Mumbles, Swansea. SA3 4HF. '369971
email: revkeithevans@talktalk.net
---