Reluctant Heroes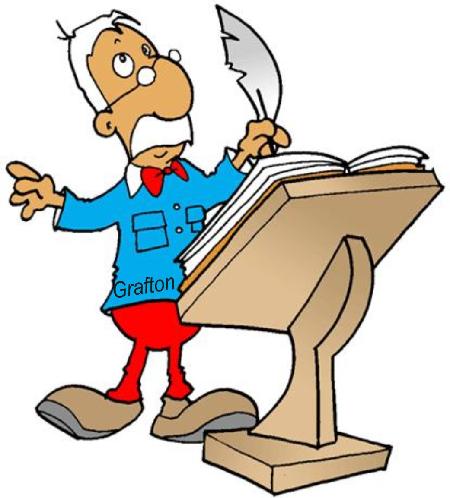 A Mumbles boy recalls his training days at the Royal Military College during the
2nd World War
written by Grafton Maggs
Lessons learned
Early in 1944, as a callow young village lad, I was called to the King's Colours to help defend our besieged, far-flung Empire, serving alongside the progeny of those who had flung it. By a devious route, which had started in the Home Guard in mid-1940 and then taken me through a short period in the ranks of the Regular Army, I arrived still a teenager at the Royal Military College (RMC), having been selected for Officer's training. No doubt the selection board had been influenced by the fact that I was a fully trained infantry soldier, carried rank and could do joined-up writing.
Mons Barracks 1940s
Early after the outbreak of World War 2, the RMC had been moved from its magnificent quarters in Sandhurst to occupy the less salubrious Mons Barracks, in Aldershot. The vacated College was then taken over by our counterparts in the Armoured Regiments. However, in spite of this move, all the traditions and discipline of Sandhurst were strictly maintained in Mons. It was very much a Brigade of Guards establishment, the entire training staff coming from the five illustrious Foot Guard Regiments and there was none more illustrious than the fearsome, renowned Regimental Sergeant Major, "Tibby" Brittain of the Coldstream Guards. He was the senior RSM of the whole British Army and was respected, with trepidation by the Commandant himself, Colonel Sir W.V. Makins of the Welsh Guards. Mons was now Sandhurst.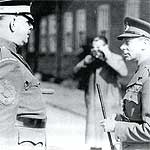 RSM Brittain with His Majesty King George VI
Sixty odd years on and, still, I marvel at the dramatic and rapid change that had taken place in my hitherto uninspiring life. It seemed that one moment I was a half-soaked lad living, quite happily, in one of the back streets of Mumbles, an unenlightened member of the working proletarian class and the next moment, transformed into a half-soaked Officer Cadet about to enter the gates of the RMC. All rather overwhelming and as I stood at the gates of Mons, seeds of doubt were fermenting within my bosom. Would I measure up?
Seasoned soldiers
Within minutes of arrival at this most prestigious establishment, it was easy to see that the cadet intake divided itself into two distinct categories, reflecting the caste system which prevailed then in mid-twentieth century Britain and, to a lesser degree, still exists today. One group consisted of seasoned soldiers many of whom had had combat experience and came from all parts of the Empire. The other group was, literally, made up of ex-public schoolboys who had, of course, come from the right schools. They all seemed to be acquainted and stood in groups, braying confidently to each other.
Immediately after reporting in, we were dispatched to the armourer's shop to collect rifles. I stood in queue behind a slender, handsome young lad. After handing over the weapon, the corporal armourer spoke to him,
"Your name, sir?"
"Uh! Stafford."
"Stafford?! STAFFORD WHAT?!"
The young cadet coloured. He was totally nonplussed. He looked to right and left for help. I leaned towards him, "Address him by his rank!.. Corporal!"
"Ss..Ss..Stafford, Corporal."
"Rifle numbers, sir?"
Again, the young cadet was lost!
Watching all this from behind the corporal, stood a full sergeant in the Irish Guards, an old timer, about eight foot tall and who had seen all there was to see in the British Army.
"I carn't believe this! I carn't believe this! You don't know where your rifle numbers are! You don't know where your rifle numbers are!" This was an ejaculation delivered at mega-decibel level and, for some reason in the Guards, traditionally repeated twice by an NCO, to show his shock, horror and disgust at a soldier's crass ignorance.
" 'ow long 'ave you been in the army, sir? 'ow long?"
The terrified cadet looked up into the piercing, ice blue eyes of the sergeant and quietly murmured,
"A fortnight, sir!"
Even I found this hard to believe and, again, came to his help, pointing out the two numbers engraved upon the bolt handle and the breech. I whispered,
"Those are the numbers. They must match!"
He turned to me with his ashen Freddie Bartholomew face,
"I say! Thanks orfully!"
A week or two later, this chastened cadet was to visit my room and express his gratitude. He was a charming fellow and in conversation it emerged that he was the Lord Basil Francis Nicholas Fitzherbert (upon my heart!) of Stafford. In effect he had come straight from Eton into Sandhurst as an Irish Guards cadet.
In later years he was to become the 14th Baron Stafford.
School leavers
I was soon to discover that in my own platoon (Coldstream), more than half the cadets, just like Stafford, were school leavers. One of these I met on the first evening as I was making my way to the Mess for dinner. We were leaving our quarters at the same time and I thought it polite to introduce myself. We shook hands and he drawled his surname – "McCorquodale!" He was joined by another cadet who obviously knew him, his name was Stud. We talked as we circumnavigated the square and I became aware that they were looking at me in rather a quizzical way. It then dawned upon me that due to their social position, they had never before been in face to face contact with someone of my inferior station. I noticed a subtle interchange of bemused glances, they obviously thought me as something rather quaint! The feeling was mutual.
Run-of-the-mill soldiers
It was inevitable that, at first, the Coldstream platoon would break into these two factions. It took me no time to make friends with Canadians, Woodbury and Kennedy (the latter was to win the Sword of Honour) and two others from county line regiments. We were just ordinary, run-of-the-mill soldiers who had come through the ranks and it seemed, at this early stage, that the social gap existing between cadets such as ourselves and the ex-school intake was of such magnitude as to make the formation of a cohesive unit an impossibility. This, surprisingly, proved to be a false surmise.
The platoon commander was the elegant and suave, Captain David Rooper of the Coldstream Guards. He was a delightful man, an aristocrat and a gentleman in every sense of the word. He had fought with the Eighth Army right across North Africa and had a profound respect for all soldiers, regardless of background. He was furious to see the dichotomy that had developed, as his wish was for a united platoon. His immediate verbose action, coupled with the extreme physically demanding and gruelling training of the course, brought about the desired effect. Shared torment does, indeed, foster camaraderie and soon, Rooper's platoon functioned as a team, winning most of the intra-College events.
Band of the Coldstream Guards on ceremonial duty at Buckingham Palace, London.

Snowdonia
With such a full programme, time seemed to fly, the parades, the assault courses, the firing ranges, the forced marches and mammoth trek, the fortnight of hell on the battle courses of Snowdonia etc, etc.
All this began to shape us into Infantry Officers and concurrently, we learned more and more about our ex-public school comrades, as they learned about us.
Early in the course, several cadets were stricken with mumps. One of them was the big, well-muscled Alastair McCorquodale and, accompanied by Stud, I visited him in the sick bay where we found him, fat cheeked, bored stiff and desperate for company. His incarceration had made him conducive to conversation, and in response to his moan that he loathed being laid up in the manner he was, I asked him what his normal recreational pursuits were, to which he languidly replied,
"Oh! Read a bit, run a bit, play a bit of cricket. You know, that sort of thing!"
He talked little of his private life but I knew that he was an Harrovian and, as I was later to discover, a member of an ancient and noble family with connections to the House of Windsor. He soon rallied, rejoined the platoon and completed the course without over extending himself.
The course ended
There were several failures some of whom were back-squadded and others, ignominiously returned to unit (RTU). It was satisfying to see that the average grade awarded to the seasoned soldiers was higher than that awarded to the ex-school intake although, one or two of the latter did excel, Cavendish of the Grenadiers, for example, was runner-up for the Sword and won the Belt, he was a natural leader.
After the Passing Out parade (attended by their Royal Majesties), we bade farewell to one another, there was genuine sadness felt by all parties and yet, although bridges had been made there was never the slightest chance that true and lasting friendship had been created between the two groups. The social gap was far, far too great. Gloucester Place, Mumbles is a long, long way from the playing fields of Eton. The war had thrown us closely together for a short period and we had learned from each other.
My natural accent
And what did I learn from association with the upper crust? For a start, I learned not to try and ape their way of speech and demeanour. Just like that immensely gifted playwright, Alan Bennet when first at Oxford, I made the pathetic attempt to talk like them and then, like Bennet, quickly reverted to my natural accent and cadence (the fruits of nineteen years cultural repartee in Mumbles). It was a lesson about retaining my own personality and just being myself (such as I was).
Although these young men conducted themselves with tremendous self confidence, they were not brash and had a strict code of behaviour which protected their dignity; part of this code being to play down any personal attributes or achievements by either, not talking about them at all, or dismissing them in a self-deprecating way In other words, I learned the meaning of genuine modesty and admired the laid back wit of their understatement – a classical form of English humour and well demonstrated in Prime Minister Margaret Thatcher's expostulation:
"If you have to tell people who you are. You aren't!"
Two members of the platoon, in particular, exemplified this pattern of behaviour.
In the official college photograph, standing next to me, is the tall elegant figure of J.R. LaT. Corrie (I believe he was ex Shrewsbury School).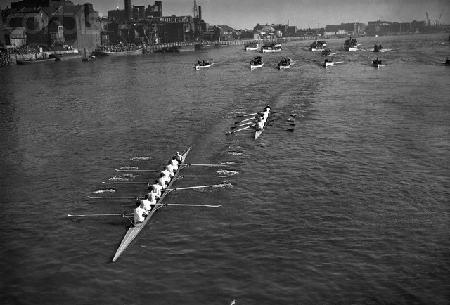 Above: The 1948 Oxford/Cambridge Boat Race.
He was a quiet, uncommunicative fellow and it was with much surprise that years later, in 1948, a national newspaper in coverage of the Oxford/Cambridge Boat Race, showed a close-up of the anguished faces of one of the crews in that last agonising half mile pull to the Post, rowing second was Corrie. He was obviously one of Britain's top oarsmen and yet, had not breathed a word.
100 yard sprint
Standing directly behind me in the same photograph is the above mentioned, Alistair McCorquodale. A few months after passing-out, whilst on active service, I glimpsed his name in Army Orders which were circulated regularly to all units. I saw that he had won the 100 yard sprint at a major Services Athletics meeting. Several times over the years I was to read of similar victories without attaching any great significance to them.
In 1947, I was demobbed and became a student in London. Every evening, as I journeyed home from London Bridge on the Southern Railway, I would read my Evening Standard. The coming 1948 Olympics in London was having great press coverage and the sporting pages were full of articles and pictures of aspiring British athletes. It gave me surprise and pleasure to see that McCorquodale had been selected to run for Britain in the 100m sprint and was also a member of the 100m sprint relay team. I never dreamt that his athletic performance had reached this level but noticed that his selection was not without criticism by several writers who did not give him the slightest chance of qualifying from the heats.
Olympic Games
The ex-Coldstream Guards officer was to confound the experts and very nearly bring off the biggest upset in Olympics history. Running to the peak of his form, Alistair McCorquodale did qualify from the heats, did qualify for the Finals and competed in what was one of the most closely run Finals in the history of the Olympic Games.
McCorquodale ran into 4th position - only 0.1seconds behind the winner Harrison Dillard!
The fact that the three coveted medals went to coloured athletes gave McCorquodale the hollow consolation of being the fastest white man in the world and only one tenth of a second from glory! However, there was a more tangible reward in the shape of his silver medal for running in the 4X100m relay event and gaining second place (with pride I notice that one of the team was the brilliant rugby union player, Ken Jones of Newport, who played many times for Wales, on the right wing.)
McCorquodale was a man of surprises. After the'48 Olympics, he never ran again but turned his talents to the cricket field. He played first class cricket as an all rounder for Middlesex County Cricket Club. He turned out for the MCC and represented the Free Foresters.
Not a bad performance for a man who, "..ran a little and played a bit of cricket.."!
A reluctant hero indeed.
His connections with the aristocracy were reflected in his society wedding to Rosemary Turnor, grand daughter to the 13th Earl of Westmorland. His son married Lady Sarah Spencer in 1980.
This was my very first interaction with the upper echelons of society. Meeting such people as McCorquodale, certainly gave me a glimpse into the freemasonry of the English family hierarchy that was so dominant in this country. From afar, it is easy to sneer, ridicule and begrudge their socially advantaged way of life but I benefitted from knowing them and found a lot to admire, realizing that most of them were thoroughly decent fellows, safely cocooned in their set privileged way of life with a code of behaviour that had many features of merit.
Free Spirit
Further thought however made me realise just how privileged I was and that what I had was something that they would never possess. I was a free spirit, not knowing what the world held for me but with the hope that I could determine my own destiny. Not for them, the sublime blessing of belonging to a close group of Mumbles friends, sharing the joys of diving off the Mumbles seawall on a hot summer's evening. Not for them, Johnny's chips, a hot Eynon's pie, winter evenings in the Scout Hut. Not for them, that early summer morning dip in a sparkling Langland, Saturday afternoon in the thruppennies at the old Tiv, and, most of all- the red glowing fireside in the kitchen on a freezing winter's night, with one's family.
I like to think that I had indeed,
"…walked with kings –nor lost the common touch."
(For all that, they were a tidy bunch of boys.)