St. Boisil, Confessor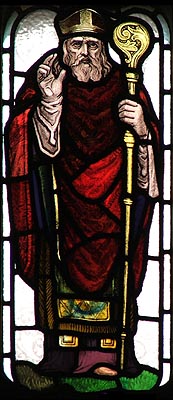 Saint Boisil, Confessor was a Northumbrian. As a youth, he was trained in monasticism at Lindisfarne Priory by Saint Aidan. During this time of primitive fervour in the English Saxon Church, he became a monk and quickly rose to be Proepositus or Prior of Melrose Abbey, in Tweedale, under Abbot Eata. Taking his information from Sigfrid, a monk from Jarrow who had trained under Boisil, Bede tells us that the saint was a man of sublime virtues as well as an eminent scholar. He talked constantly of the blessed Trinity and he repeated the name Jesus Christ with tender affection. He frequently exclaimed, "How good a Jesus we have!" and wept so sincerely that onlookers were inspired to join him.




To him were brought the sick and ailing from far and near to be cured by his herbal remedies, and by the healing properties of the two local springs containing iron salts. Interestingly, these wells are clearly marked on the OS maps of today - the Wellbury Well in the bank just below his chapel, and the Hare (corruption of 'Heir' meaning 'Holy')Well which lies near St Boswells Burn. Quite a large community grew up here.
It was Boisil's evident sanctity, which drew the young Saint Cuthbert to Melrose Abbey (shown above), rather than the more famous Lindisfarne, in AD 651. By chance, the prior was standing by the abbey gate when Cuthbert arrived. The latter entered the church to pray and, Bede documents that "Boisil had an intuition of the high degree of holiness to which the boy would rise", and said just this single phrase to the monks with whom he was standing: "Behold the servant of the Lord". Abbot Eata soon gave permission for Cuthbert to enter the community, and Boisil ensured that he "watched, prayed, worked and read harder than anyone else". It was from the Prior that Cuthbert learned the sacred scriptures, pupil and teacher becoming great friends. Both were given to travelling amongst the villages neighbouring Melrose and preaching to the local people.
In AD 659, Abbot Eata left the monastery to found a second house at Ripon in Yorkshire. Boisil became Abbot of Melrose. Two years later, Boisil was able to further demonstrate his gift of second sight when a great plague swept through the monastery. Cuthbert was stricken with the disease and drew close to death, but Boisil correctly declared he would most certainly recover. He also predicted his own death from the same epidemic, to which he, indeed, fell victim. Shortly before the end, Boisil made his most famous prophecy, foretelling Cuthbert's rise to Episcopal glory and they great influence he would have on the Northumbrian Church.
Boisil died on 7th July AD 661 and was buried at Melrose. Miracles at his tomb soon led to him the creation of a beautifully carved shrine, parts of which are preserved in the Museum at nearby Jedburgh Abbey. He is also remembered in the name of St. Boswell in Roxburghshire.
His feast day is February 23rd.