St Simon and St Jude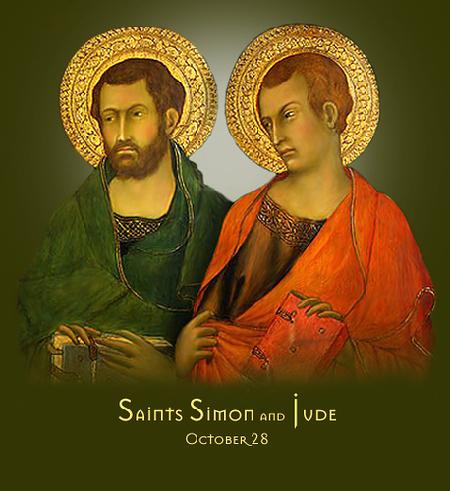 On the various New Testament lists of the Twelve Apostles, the tenth and eleventh places are occupied by Simon the Zealot, also called Simon the Cananean, the Aramaic word meaning Zealot and by Judas (Jude), also called Thaddaeus. Simon is not mentioned by name in the New Testament except on these lists but was one of the Lord's first cousins. He was raised in Nazareth, near the Holy Family and later left Galilee to preach in Egypt, Spain and Libya. Some ancient Christian writers say that Simon and Jude went together as missionaries to Persia, and were martyred there. If this is true, it explains, to some extent, our lack of historical information on them and also why they are usually put together.
Judas, often called Jude in English, is variously named, but this is not surprising. Before the Crucifixion, there would be a need to distinguish him among the apostles from Judas Iscariot, and after the Crucifixion there would be an additional reason for being emphatic about the distinction. Thaddaeus is possibly a variant of Theudas, which is used as a Greek equivalent of Judas. After the Last Supper it was Jude who asked Our Lord why he chose to reveal Himself only to the disciples. He received the reply: "Whoever loves me will obey my teaching. My Father will love him, and my Father and I will come to him and live with him." (John 14v23)
The Epistle of Jude is a brief document addressed to the Church, and warns against corrupt influences that have crept in. It has some obscure and baffling references to old Jewish traditions, but it includes inspirational words of encouragement to fight for the faith and to be watchful for false teachers who pretend to be believers.
They share a feast day on October 28th
Lists of the Apostles
Matthew 10:2-4; Mark 3:16-19; Luke 6:14-16; Acts 1:13