The Day Thou Gavest
Hymns we love to sing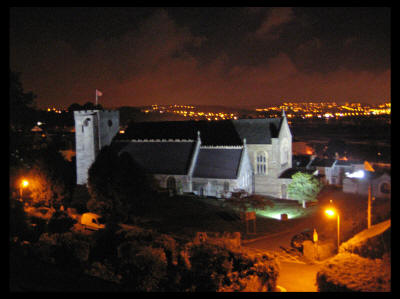 The day thou gavest, Lord, is ended
The darkness falls at thy behest;
To thee our morning hymns ascended
Thy praise shall sanctify our rest.
We thank thee that thy Church unsleeping,
While earth rolls onward into light,
Through all the world her watch is keeping,
And rests not now by day or night.
As o'er each continent and island
The dawn leads on another day,
The voice of prayer is never silent,
Nor dies the strain of praise away.
The sun that bids us rest is waking
Our brethren 'neath the western sky,
And hour by hour fresh lips are making
Thy wondrous doings heard on high.
So be it, Lord; thy throne shall never
Like earth's proud empires, pass away;
Thy Kingdom stands, and grows for ever,
Till all thy creatures own thy sway.
The day thou gavest is one of the most popular of our evening hymns. It usually makes the top ten in the annual Songs of Praise poll of the nation's favourites.
It's author was Canon John Ellerton, who served for many years as a faithful and popular parish priest.
Ellerton was born in Middlesex in 1826. After completing his education at Trinity College, Cambridge, he was ordained in 1850. He served curacies at Sussex before being Vicar at Crewe Green [Cheshire], Hinstock [Shropshire], Barnes [London] and White Roding [Essex].
He is especially remembered for his work as a hymnologist and writer. He wrote and translated over eighty hymns, which were very popular in his day.
His first publication was Hymns for Schools and Bible Classes [1859]. He was a leading member of the group that published the SPCK's Church Hymns [1871]. He was also one of the later editors of the celebrated Hymns Ancient & Modern, the most popular Anglican Hymnbook of the time.
The day thou gavest was written during his time at Cheshire. It is said that it came to him as he made his nightly walk to teach at a local Mechanic's Institute. He actually penned it for use at missionary meetings and it is often suggested that it is more of a mission than an eventide hymn.
Ellerton refused to register a copyright on any of his hymns, claiming that if they "counted worthy to contribute to Christ's praise in the congregation, one ought to feel very thankful and humble." To hear them offered in worship was reward enough for him.
The main theme is the growing and worldwide fellowship of the Church and the ceaseless offering of prayer and praise to God offered as the earth rolls onward into light. The reference to evening and morning is the backdrop to this.
John Ellerton was a skilled writer and poet and this hymn is one of his finest. The phrases are wonderfully written and celebrate the tiumphant hope that God's kingdom stands and grows for ever. It is often sung at funerals.
Queen Victoria chose the hymn for her Diamond Jubilee in 1897, ensuring its popularity. It was also chosen to be sung, a century later, when Britain handed control of Hong Kong to China, one of the final chapters in Britian's imperial history.
Part of the hymn's appeal is the tune it is set to, St. Clement. It was composed by the Revd Clement Scholefield [1839-1904], under the watchful eye of Sir Arthur Sullivan [of Gilbert and Sullivan fame]. It is sung in triple time, as a waltz.
Towards the end of his life John Ellerton was made a Canon of St. Alban's Cathedral. It is said that as he lay dying hymns flowed from his lips in unceasing praise to God.