Music
Director of Music and Organist

Luke Spencer

Assistant Organist

Hywel Evans

Sub Organists are

Nathan Petherbridge and Angela Morgan

Assistant to the Director of Music

Daniel Rogers

All Saints Organ Scholar

Joseph Lyden

All Saints Junior Organ Scholar

Lucas Lewis-Smith (sponsored by Maureen Donald)

Previous Organ Scholars Nathan Petherbridge, Michelle Davies, Rhian Morgan, Daniel Rogers and Sean Rees

Choral Scholars are

Hannah Lyden,

(tenor)

Dan Rogers, Joe Lyden and Alfie Williams

Ex Choral Scholars (now at University) who occasionally sing with the present scholars:

Reuben Nicholas ATCL (Royal Welsh College of Music and Drama, vocal studies, tenor) Ralph Williams (Royal Holloway University, music, Ralph is a counter tenor),Sean Rees ATCL (University College London, medicine) and Hannah Williams (University of the West of England, English)

Head Chorister:

Gracie Williams

Assistant Head Choristers:

to be appointed

Holders of the RSCM Gold Medal:

Anneliese Pickard Davies and Carrie Thompson

6 current choristers have passed the exam for the

RSCM Silver Medal:

Dan Rogers, Hannah Williams, Reuben Nicholas,

Hannah Lyden, Joe Lyden, and Georgie Ingmire.

7 current choristers currently hold the RSCM Bronze Medal:

Alfie Williams, Isobel Ace, Grace Williams, Andrea Davey, Lucas Lewis Smith and Carys Nelson

Supervisory staff for the young choristers include

Mrs. Kath Williams & Dan Rogers

Tutors who assist with teaching

RSCM medals and Voice for Life scheme include

Directors of Music, Dan Rogers and Hannah Williams.
---
September Music Notes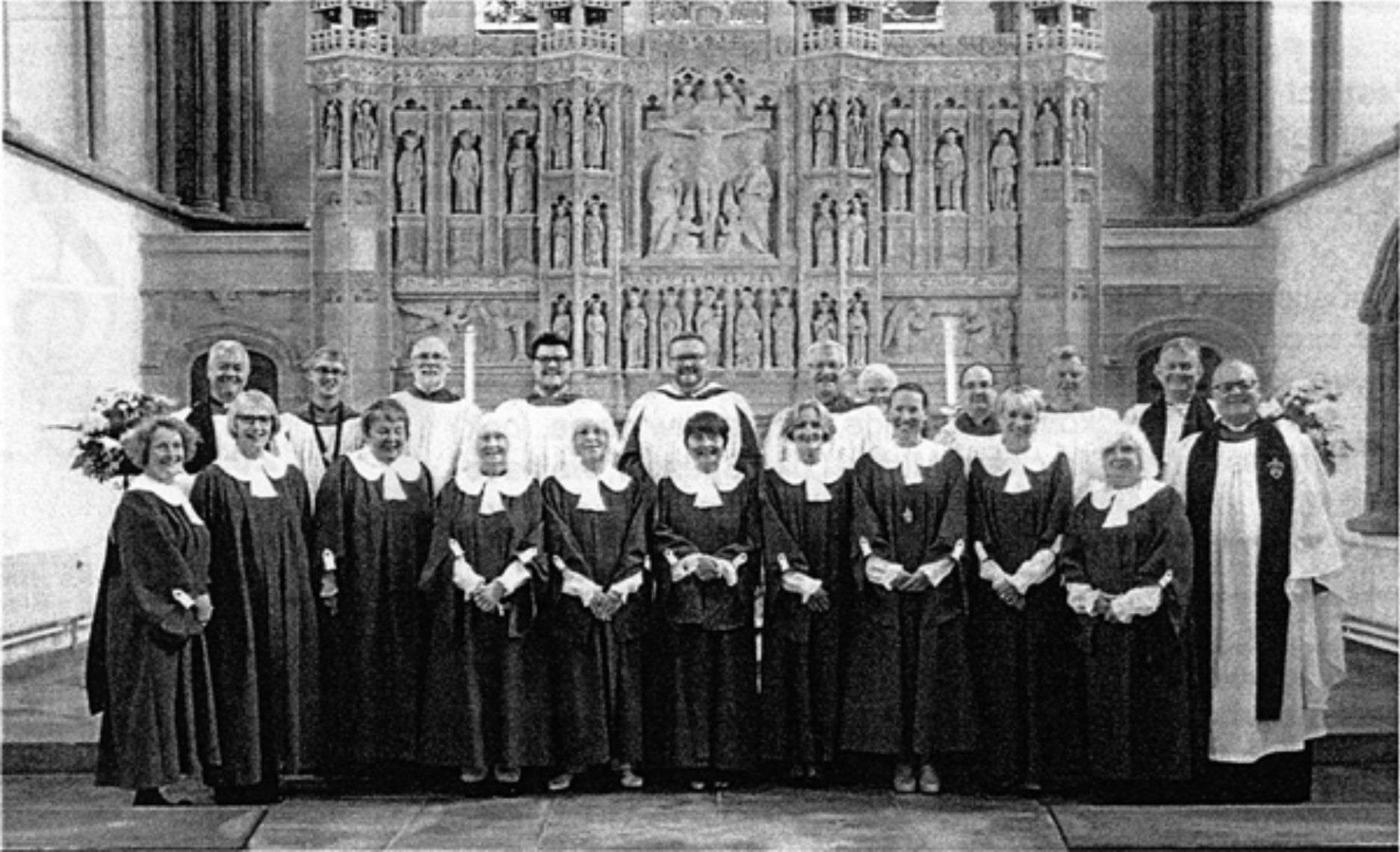 The adult choir sang the services at Brecon Cathedral on Sunday 7th August [above picture]. They led the Sung Eucharist in the morning and Choral Evensong in the afternoon. Music included Pittoni's "Cantate Dominum" as the anthem during Holy Communion; Stanford's Canticles in C, Haydn's "The heavens are telling" and responses by Luke Spencer in the afternoon. There were lots of positive comments from the Cathedral congregation about the music and a warm welcome from the Dean.
We all enjoyed a hearty Sunday lunch at Pilgrim's Restaurant in the Close and it was so good to be together socially as a choir. We thank Luke and Anne for organising the day, Hywel Evans for playing the organ and the choristers who came along. We hope that it will be the first of many singing away days for the choir.
September will be dominated by the "Mumbles Festival of Music and the Arts" - the new name for "All Saints Alive". The choir will lead two special services; the Choral Eucharist on Sunday 18th and a Festival Choral Evensong on Sunday 25th. They will also take part in the Four Choir Concert on 17th September.
New choristers are always very welcome to join us - just come along to practice on Wednesday evenings [6-7pm for juniors - 630pm to 730pm for adults].
A selection of music recorded at All Saints Church Oystermouth.
Here is some organ music played by Leslie Ryan, simply click on the title to hear the music.
---
Here are some hymns sung by the All Saints Church Choir with Penny Ryan directing the singing and Leslie Ryan playing the organ
---
Here is a selection of music played by Daniel Rogers, Organ Scholar 2009-2011 at All Saints Church. Dan was also a choral scholar at All Saints. Recorded 2012
---
All Saints boy chorister Dominic Caselton sings Mendelssohn's O for the wings of a dove followed by Andrew Lloyd Webber's Pie Jesu from the Requiem Mass, Dominic is 13. Recorded 2015.
---
All Saints tenor choral scholar Reuben Nicholas sings items with organ accompaniment by Leslie Ryan. Reuben was 16 when recorded these items. Reuben was a Choral Scholar at All Saints
---
Organ Scholar 2011- 2013 Sean Rees ATCL plays a selection of music. Sean was a choral scholar at All Saints. Recorded 2013.
---
Junior Organ Scholar 2014- Lucas Lewis-Smith, aged 14, plays some short arrangements of well known melodies (recorded 2014)
---
Organ Scholar Joseph Lyden 2015- plays some short voluntaries. Joe is a tenor choral scholar. Recorded 2015)
---
Choral Scholars Reuben Nicholas (tenor) and Georgie Ingmire (soprano) sing a duet version of Panis Angelicus (Franck) recorded 2015
---
---
Carrie Thompson who was a member of All Saints Choir and now studying singing at the Royal Academy of Music performs the lovely Pie Jesu from Fauré's Requiem, accompanied by Les Ryan (organ). Carrie achieved the RSCM Gold Medal and the ATCL singing diploma whilst a chorister at All Saints
---